How do I add my products to the catalog?
Для начала занесите карточку компании, чтобы система подготовила агентский договор. Для этого
войдите
в систему или
зарегистрируйтесь
.
В личном кабинете создайте карточку компании. Для входа в личный кабинет нажмите на свое имя в верхнем правом углу.

Заполните карточку и сохраните. Система создаст договор. Теперь вы можете добавлять свои рекламные продукты.

Для того, чтобы добавить продукт в меню личного кабинета выберите
Каталог рекламы
.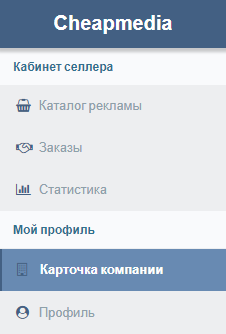 Нажмите добавить продукт